Good morning campbellsworld visitors and disabled writers everywhere.
As many who follow me know I had some issue with WordPress earlier in the week.
One thing led to another and a lot of us had some great conversation and my post, Challenges of a Disabled Writer was shared and reshared.
I'm very grateful for this and am pleased to see that much awareness was raised by that happening.
But.
This early morning I got a reply from WordPress.
I have copied the reply and my reply back.
Disgusted doesn't quite qualify how I feel about it all.
Disappointed doesn't do it justice either.
WordPress I'll kindly thank you to get your head out of your tail and get with the program please?
I have a goodly following and I'd hate to have to try and rebuild that somewhere else, but blind as well as other disabled writers seem to be having huge success with BlogSpot.com and if things don't start improving round here I may just do a trial run there to see how it is.
If it is as easy to blog as it is to comment and get round on my friends' sites I may just be moving.
I'd rather not do that.
Anyhow, I'd ask everyone read and share this post.
Thanks in advance and blessid be.
(WordPress)
##- Please type your reply above this line -##
Kristen S (Automattic)
May 26, 05:46 UTC
I use the PressThis button all day long every-day for my work. A large part of what I do depends upon my being able to share other's blogs. The Reblog button has never worked for me, so the PressThis button has been absolutely one-hundred percent necessary. Now I no longer can see the publish button when trying to share another's posts. This has to say the least upset me. I make my living on promoting other's work. My clients major way of promoting their work is on this site. Now we can no longer use this and we'd bloody well like it fixed. It shows up as an unlabeled button unless I'm on my phone and I do not wish to do my work on the phone thanks. We're sick and tired of feeling like an afterthought. Please get back to me at your earliest convience. I am losing money every hour I cannot work.
Hey there,
Is this for the site campbellsworld.wordpress.com?
What is the web browser that you're using?
I tested this on my computer while logged in to your site in the Firefox browser and it seemed fine. The Publish button was blue as expected. Here is a screenshot: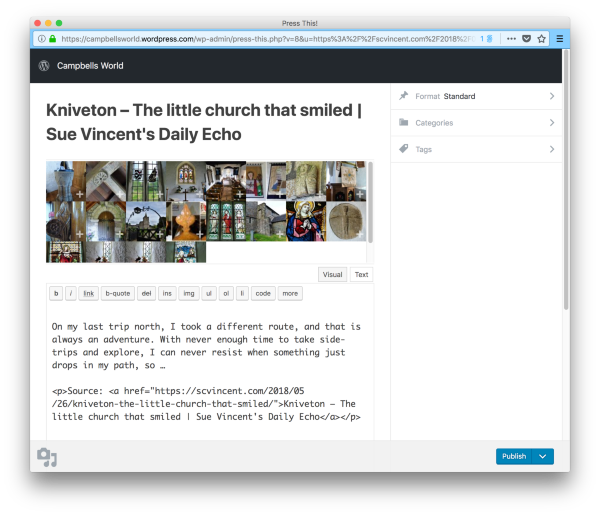 I did not Publish anything, but just to be sure I saved it as a draft, and it was successful.
If you are still having this issue please send a screenshot of it. Thanks!
Kind Regards,
Kristen S | Happiness Engineer
This email is a service from Automattic.
[XZ8YR9-OP7Q]
(Me)
First thanks for replying.
Second why in hell would you send a blind person a screenshot?
You a tech person ought to know that a totally blind person cannot read a screenshot with either screen reader or voice over.
I am extremely disappointed.
Thanks to some blind wordpress users I've resolved the issue.
I'm amazed at the lack of knowledge you people have.
here is something I totally wish you'd read and consider when updating your blasted site.
You should know this has been shared and reshared multiple times and something like 20 comments from all types of disabled writers have been made.
You all would do well to get into the loop because we disabled writers are getting totally tired of being left behind.
POST URL: https://campbellsworld.wordpress.com/2018/02/07/challenges-of-a-disabled-writer/